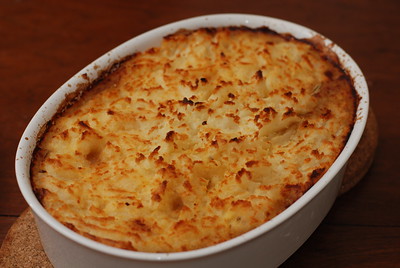 Source: Flickr | Ansy Dupiton
British cuisine doesn't have the best reputation around the world, and it's often seen as being bland and a little dull. However, in recent years, Britain has become more of a foodie nation, upgrading its national offerings and borrowing from other cultures to create an exciting array of cuisine. Whether you're planning a trip to England or making dinner at home, here are some classic British dishes to try.
1. Pie and mash
If you visit the East End of London, then pie and mash is an essential dish to try. While many of the old-fashioned pie and mash shops are gone, you can still find places serving up this working-class dish, which is made up of a meat pie and scoops of mashed potatoes swimming in 'liquor', a non-alcoholic sauce made of parsley. While you can make it at home, it's best enjoyed in one of the bustling shops or during half-time at a soccer match.
2. Haggis
Scotland's most famous dish doesn't sound too appetizing on paper, so you shouldn't ask exactly what's in haggis, but basically, it's a savory pudding made of different types of ground meats, which is then steamed. Haggis is usually served with neeps and tatties, a combination of swede or turnips with potatoes. Most Americans compare eating haggis to eating sausage, but it's definitely worth a try if you're in Scotland, since the product isn't available in the USA.
3. Sunday roast
The Sunday roast is a big part of British culture, and every Brit will have their own opinion on what should be included and what the best bits are. It's usually made up of carved meat, roast potatoes, lots of vegetables and extras such as pigs in blankets, all smothered in British gravy. Many families cook a roast on Sundays or go out to pubs such as theflintgate.co.uk where they'll serve a Sunday menu.
4. Shepherd's pie
If you're not planning a trip to the UK anytime soon, Shepherd's pie is an easy dish to make at home. A plate of ground beef, peas and carrots is topped with mashed potatoes and usually a generous sprinkling of cheese. The dish is then baked to create a slight crust on top and is a great comfort food during cold British winters. All you need to do is serve up a few vegetables on the side.
5. Fish and chips
Fish and chips are a common sight on British menus in pubs and at home, but the best place to enjoy them is in a traditional British chip shop, ideally close to the coast. Chips are thick, golden fries that sit alongside a large slab of battered fish, usually cod. More upmarket places will add a lemon wedge and some tartare sauce, a tangy mayonnaise-style sauce that includes pickles and capers. While eating fish on Friday is a Catholic tradition, you'll find that Brits from all sorts of backgrounds unofficially follow this practice.
Curry
Nothing shows the multi-cultural side of Britain more than its love of curry. While the curry you get in an Indian restaurant in Britain doesn't bear much resemblance to traditional Indian dishes, it's certainly delicious and shows the more exotic side of the country's cuisine. Not sure how spicy you like it? Start with a chicken korma and then work your way up.