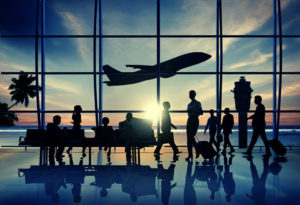 Source
As the world becomes smaller and smaller in terms of globalisation the chances of people having to travel for work increases. With the world changing in dynamics as well, much more work is now being done on an international level with many companies employing workers from overseas, now more than ever travelling for work to collaborate with international colleagues is becoming hugely popular. So what are some of the top destinations for work in 2018? Check out our list below.
Hong Kong
It's no secret that in recent years China as a whole has become an increasingly big player on the international worker stage. With many multinational corporations having setups in Hong Kong, it's no wonder that Hong Kong is developing in popularity as a potential working destination. Accessible with ease from the western coast of North America, this is one destination that is a hot up and comer for many companies around the world, especially as China continues to grow in its multinational influence.
New York
New York has always been a city of a million jobs (almost literally) and so it's no surprise that many international corporations would have an office of some type in the Big Apple. For companies in Europe, New York is typically a great first stopping off point for a North American expansion due to its location, the accessibility of things like internet, office space and more. In this sense, New York always has been and always will be a top destination for businesses and their employees to travel to for a number of reasons associated with the business itself.
Toronto/Vancouver/Calgary
Canada is beginning to get into the international stage in terms of having offices of major brands and corporations somewhere within their borders. In most cases this means either Toronto or Vancouver but Calgary is a huge option as well. All three of these cities have offices of major international labels and corporations located within them. Vancouver is great for Asian companies and Toronto is great for European ones while Calgary is a hot spot for a number of head offices for different businesses and not all of them Canadian.
Dublin
Much like Canada, Ireland is now becoming a huge spot for people to travel to for business thanks to huge expansions in Dublin making it more welcoming for both Irish and international workers. In recent years, Ireland has really done a lot of work to keep their businesses at home instead of expanding overseas with their head offices and the like and for good reason. Formerly many Irish citizens were moving abroad to look for work, but the government is looking to attract not just the Irish to remain home, but also foreigners to fill jobs that were left vacant by emigration.
London
Much like New York, London is a major hub of international business and as a result will always be a huge destination for people from around the world working in various sectors. From engineering to transport and more, London attracts a number of different businesses and their employees who come to the city to work for a week or two at a time with their British counterparts. We certainly don't think London is going anywhere anytime soon in terms of its importance as an international business destination.
So if you have been wondering where you might be headed next for your business assignments, this list might give you a good idea. Not just these though, there's a whole host of Middle Eastern countries as well that are hot spots for international business travellers, including Dubai, Abu Dhabi and Doha. So where do you hope to get sent?