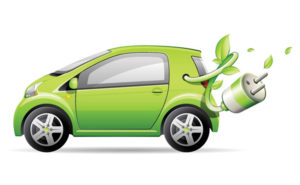 Source
We all know that the oil industry is unreliable and that electric and other powered vehicles are making an emergence more and more as time goes on. With cities beginning to phase in car charging stations versus petrol stations, it's only a matter of time before electric cars are the way of the future, making the world healthier for all of us without emissions from burning fossil fuels. So if you're looking to get in on the ground floor of this new movement which car should you consider getting? Hybrids have been popular for awhile so here are the top eco-friendly cars for 2018.
Tesla Model 3
Tesla cars have begun getting more and more attention since popular celebs such as Amber Heard have been spotted driving these unique and sleek cars on her jaunts around Hollywood. Tesla cars are fully electric with a number of amazing features including keyless entry, towing packages, and even HEPA air filtration systems meaning you are getting something not just healthy for the environment, but healthy for you too. After all, who wants to be breathing in all the smog and dust from sitting in traffic jams? The Model 3 is poised to be a popular option this year as it's one of the most affordable electric sports sedans the company offers starting at $36,000.
Nissan Leaf
Nissan is back and at it again with their new electric model, the Leaf but with a more powerful and longer lasting option coming in 2019 for those who don't mind waiting. The overall run time is about 150 miles with full charge taking 35 hours from a typical 120 volt wall socket. This is a great little runner for those in the city or going shorter distances who want to lessen their impact on the environment. Starting at around $30,000 this is one of the cheaper electric vehicles on the market and great for those who are just breaking into the electric market.
Kia Niro
One of the best larger vehicles in the electric range, this is a hybrid with not just style but smarts too. The Niro only features around fifty miles of electric range, but for city driving and doing short stints, this is more than enough. A great crossover coming in at around $25,000 this is the perfect vehicle for those looking to transition out of petrol cars and into a fully electric option. Perfect for those who still like to head out on long road trips but without needing to worry about plugging it in and charging it somewhere.
Audi A3 Sportback
This is a great little city car as well featuring only sixteen miles of fully electric capability. This hybrid comes in around $40,000 but is a great crossover for everyday tasks and longer trips on the road. Plug it in for city driving and running short errand and switch to petrol when the battery runs low. With 14 cubic feet of space for storage, this is a great weekend car for those trips out to the cabin.
So if you're looking to enter the world of electric cars, here are four for 2018 that have come into the limelight as some of the top suggestions in either crossover hybrids or fully electric options. With the advancements in electric vehicle engineering always improving, it won't be long before more fully electric options are on the market, so keep an eye out.