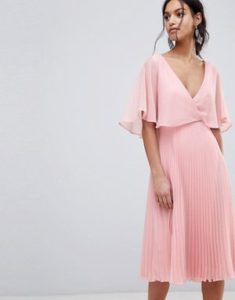 Source
When you're out shopping whether it's for a party, work, or just for everyday clothes, the one thing that you always want to ensure is that the clothing is flattering. Choosing a dress in particular can be a bit of a challenge for many as they may not know which types of styles suit their bodies best. So how do you pick the right dress for your body shape? Here is a quick guide for choosing the best look for your shape to make it easy as pie for you on your next shopping trip.
Hourglass
The ideal dress for an hourglass figure is those that highlight rather than hide the curves. Most women with hourglass figures have a smaller waist with wider hips and bust so the ideal dress shape is to highlight the smaller waist to accentuate the curves of the rest of the body. In this sense a pulled in dress such as a wrap dress, tied in the waist is a great option for those with this body shape.
Apple
Those with apple body shapes are typically smaller in the shoulders and legs but larger around the midsection. The key to dresses for this type of shape is to highlight the shoulders or legs. Many women with apple shapes have nice and shapely legs so it's a great opportunity to show them off. Flounce or shift dresses that don't cling to the torso are ideal for flattering options, especially with slightly higher hems to show off the legs you rock.
Banana
Women with this body shape typically aren't very curvy and their waist tends to go straight into their hips without much change in shape. The ideal way to highlight the best parts of your body with this shape is to get a dress that highlights the thinnest part of your waist in order to give your body more of an appearance of having a shape, even if it's just giving off the illusion. A dress with a side cutout is a great way to draw attention to your waist in this sense and they make for great evening or date night dresses too!
Pear
Narrow up top and curvier on the bottom, pear shaped women tend to have smaller waists and shoulders but wider hips which makes dresses and skirts a great option for clothing since trousers can sometimes be a bit of a pain finding ones that fit right. A-line dresses are ideal to help conceal larger hips while highlighting smaller waists. This will help create more of an illusion of having an hourglass figure.
So if you have been having trouble looking for the best choice in dresses for your body shape, this is a great guide to help you find the perfect look for you. Not all bodies are created the same and so the dresses you wear shouldn't be either! With this in mind and arming yourself with education on the best dress for you, you may find yourself enjoying dress shopping again!