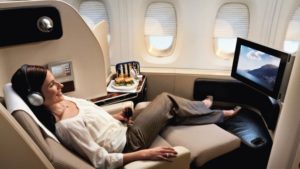 Source
We all know how much of a pain travelling long distance in economy can be, especially if you have to hit the ground running on the other side and get out to meetings, get into the office and pick up the work you have missed enroute to your destination. Business travellers often find that flying business class is the most ideal way to travel internationally due to the level of exhaustion associated with it, but what about the rest of us who just travel for fun? Is business class worth the extra cost? Let's break down what you can get in business class to see if it is!
Leg Room Galore
One of the best things about business class is that you have so much leg room that you won't know what to do with all of it. This makes for a great trip in comfort where you have extra space to move around in your seat. It also means you will turn up at your destination more fresh and in a better mood than being crammed back in coach, so it might be worth it for the leg room alone.
Fine Dining
Business class travellers often have a different choice of dinner as well as having it served on real china with real cutlery – none of this foil containers with plastic cutlery like you get in economy class. Add to this the fact you get offered complimentary alcoholic drinks and you're onto a winner with dinner!
VIP Treatment
Many times, booking flights in business class gets you VIP treatment not just on the plane, but off of it as well. Priority boarding is just one giant perk that you will definitely receive along with others like free newspapers, headphones, snacks and more. Business class travellers also frequently get  better pillows and blankets as well as more weight allowance for both hand and hold luggage.
Lounge Access
Lounges can sometimes be for everyone, especially if you pay, but in the case of business class travellers, lounge access is often included in the ticket. Lounges can have access to exclusive lounge-only bars, shopping, comfortable seating and more. Definitely worth it, especially if you have a lengthy layover somewhere but not enough time to leave the airport.
So – Verdict?
In all, paying more for business class can definitely be worth it depending on your origin and destination and whether or not you will be heading right to the office when you get there (or if you will just be heading out to explore!). Many airlines offer a business class kind of lottery system as well whereby when the date of the flight comes and they haven't sold all business class seats, they allow you to enter a lottery to pay for an upgrade. This is a great way to experience business class for less – often only £200-300 more than your economy ticket where as many business class tickets often go for easily £500+ more than economy ones.
So overall, we definitely think it's worth paying more for business class if you have an opportunity to get a steal of a deal on a seat. Would we pay thousands? Maybe not, but if you can get your hands on a deal, why suffer in economy class?