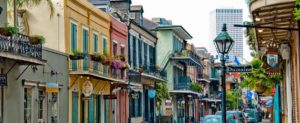 Source
You often hear people rattle off their top lists as to where they'd love to travel to and on many of these lists you will hear the words 'New Orleans'. What makes the Big Easy so sought after by travellers though? Being one of the oldest cities in the United States is a good place to start, along with a combination of different cultures such as French, Creole, Haitian and more means that if ever there was a true example of a melting pot, New Orleans is it.
So why should you visit? What makes it worth of gracing your must see list? Read on to find out.
Food
Probably the biggest reason to go to New Orleans is the food. Simply put, it has some of the most exemplary food around, mainly due to the combination of different peoples from all different backgrounds that have descended on the area throughout its history. From the French to Creole, Irish, Caribbean, African and more, food here is truly unique and will get you hooked. From spicy soup dishes like gumbo to crayfish etouffee and jambalaya, there is something for everyone and flavours that will keep you coming back for more.
Music
During the 20th century, New Orleans became a hot spot for artistic movements in music and it was here that jazz was given its start. The rundown French Quarter of the city had begun to attract artists and bohemian people who sought inspiration in strange and wonderful places and a new life was injected into the area along with a new sound. Today you can check out a number of different clubs that play jazz to get a feel for the sound and soul of the city. Check out the Spotted Cat, the Jazz Playhouse or the Palm Court Jazz Cafe. There's also a number of great spots to hear some real soulful Blues sounds.
The City
The city itself is divided into several areas with the French Quarter being one of the most frequented by visitors. The French Quarter is home to the Aquarium of the Americas which is worth a visit for those who enjoy a look at some great examples of sealife. Made up of Bourbon Street, Royal Street and Jackson Square, the French Quarter is a functioning local neighbourhood peppered with hotels, motels, guesthouses, restaurants, bars, clubs and great places where you can get in with the locals to enjoy the sounds of a jazz or blues club to go with that jambalaya for dinner.
Taking from the huge Haitian population, visitors can check out voodoo hotspots and rituals in the Alombrados Oasis as well as the Bywater. One of the most enticing things to do in New Orleans is to visit a couple of the historic cemeteries with their noted above ground tombs which makes one feel as though they're wandering a city within a city. Visit the tomb of the voodoo queen Marie Laveau and If you're 'lucky' enough to catch a funeral in action, you're in for a treat. They're usually a bit of a unique affair with parades and jazz music filling the streets as the deceased is carried to their final resting place.
So if you're looking for a great option for your next city break, consider New Orleans. With so much to see and do in terms of culture, food and history you won't be bored even for a second.