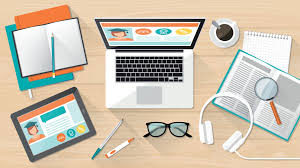 Source
Even as an adult you want to keep up on your learning and developing new skills in order to be the best you can. With the advent of so many fantastic apps for your smartphones it's easier than ever to keep learning even well after leaving school. But what are the top educational apps that adults can use for their phones and tablets? Check out these four today to keep your learning maximised and on a roll.
DuoLingo
An easy to use app for anyone to learn languages for free, DuoLingo puts the fun back in learning by teaching you languages through mini-games you play. The games increase in difficulty as you progress and pave the way for you to start taking on more advanced language learning through the likes of Rosetta Stone (which can also be found in an app) or other more serious language based applications. DuoLingo is a great app that can be used on the go anytime, anywhere to keep up with your learning in a fun way, so if you're needing to kill some time on the bus or while waiting for a friend at a coffee shop or the like, this is the way to go.
Coursera
A mix of old school and modern learning, Coursera is the ideal app for those looking to increase their knowledge in traditional courses such as technology, science, math and more. Each of the courses features reading assignments, lectures to listen to and some even come with certificates of completion. While some are free others will cost money, but this is a great way to increase your knowledge with ease through an app.
PhotoMath
This is a great app for not just adults looking to increase their knowledge of mathematics but also for teens who are struggling through math class in school. PhotoMath works in that you take a photo of your math equation or problem and then it will give you the answer while also showing how it came to the conclusion to help you identify how to work out future equations for yourself. It can also be used to check your own math calculations and is cheaper than a tutor.
Udemy
Udemy isn't just an app but it's an entire website devoted to bringing fresh, new learning in the form of online courses to anyone, anywhere. The app just ads to the ease of access to courses in everything from mindfulness to meditation, crystal therapy, programming, life coaching and more. Depending what you're hoping to become proficient in, it's likely that Udemy has a course for it, usually developed by leaders in the industries. This means that if you're highly qualified in something you can write a course for Udemy to sell it through their site and app as well. Win – win right?
So if you're looking for something to do to fill some spare time, why not consider downloading some of these great apps to get your brain moving again and pick up a new skill, trade or hobby? With so many new ways to learn both on the go and with ease, you will be searching for all kinds of new things to take up before you know it.