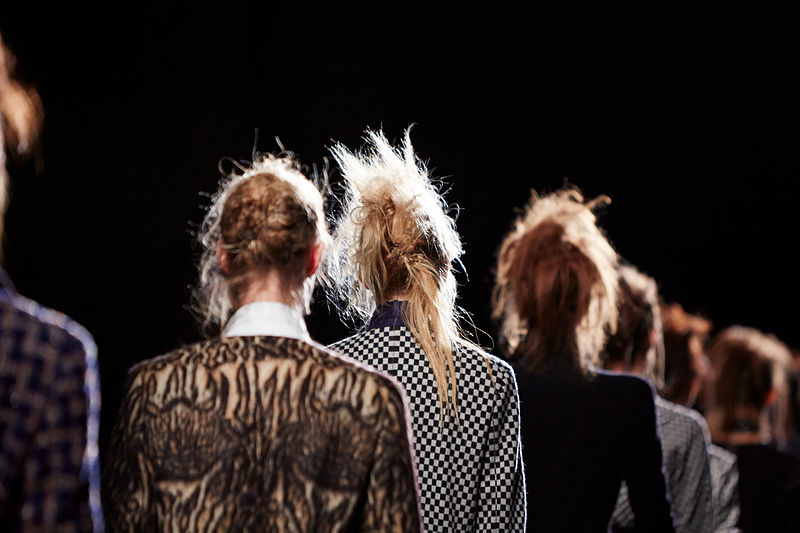 Source: Wikipedia
Here we go again! ''Semaine de la mode de Paris'', also known has Paris Fashion Week 2019 is getting ready to set the fashion world on Fire. With a series of designers presenting their unique works in Paris. Paris Fashion Week is organised at venues all over the city. The show starts on Monday, 23rd September and will end on Tuesday, 1st October.
This fashion show consists of ready-to-wear, men's and haute couture shows. This event takes place semi-annually for the spring/summer and autumn/winter seasons. Every year well- known brands like Dior, Chanel, Louis Vuitton, Givenchy, and Céline hold their shows. Let's look at some of the famous designers and what Paris Fashion Week 2019 is going to bring.
Monday September 23, 2019 -6 p.m. MAME KUROGOUCHI
The show will kick off with Mame Kurogouchi. The Japanese designer held three exquisite runway shows, with the soothing air of an afternoon goûter. Her work is uniquely Japanese in its ties both to nature and centuries-old craft traditions. The designer is so sophisticated in her orientations to her native Japan. Kurogouchi once said "Those sleeves were actually inspired by dumplings!". Paris Fashion Week 2019 also combines all cultures!
Tuesday September 24, – 2:30 p.m. MAISON DIOR
The Dior brand caters mostly for women's gifts.  Dior himself was known for his luxury in women's wear during the post-war period, when women had been used to shorter and boxier skirts. The "New Look," evolved into openly feminine designs such as skirts that were long gown-like and luxurious. Mark the date ladies!
Wednesday September 25, – 7 p.m. COURREGES

Courrège's Spring collection has made an impact on the fashion industry. The brand consisted of "architecturally-sculpted, double-breasted coats with contrasting trim, well-tailored, sleeveless or short-sleeved minidresses with dropped waistlines and detailed welt seaming, and tunics worn with hipster pants". Courrège had strong beliefs in the freedom of fashion. He stressed that "A woman's body must be hard and free, not soft and harnessed. The harness – the girdle and bra – is the chain of the slave." Therefore, his cut-out panel clothes were worn without bras.
Tuesday October 1, – 10:30 a.m. CHANEL
The well-known for high fashion, Coco Chanel designs are known for trademark suits and little black dresses. The brands style compromise of Simplicity, elegance and comfort. Key elements of her style include Black and white which was a must in her designs. She is stuck to these colours. For menswear, she could turn a men's clothes into stylish and comfortable ladylike clothes – that's how creative she was!
Fashion trends are literally everywhere. Discover the influence of fashion though the various characters on  our slot games at Regal Wins casino site. Some games and themes that offer interesting concepts are Amazon Queen Slot and Almighty Reels: Garden of Persephone slot. These games are filled with fun and adventure!