Taipei is the capital city of Taiwan. It is a huge city embracing a mixture of Chinese and Japanese cultures. Taipei is situated on the Taipei lake-bed which is surrounded by the narrow river valleys that join with Tamsui River Keelung and Xindian. Taipei becomes a world-famous tourist destination by the tantalizing attractions that it has, ranging from cultural landmarks, national parks, museums and galleries, city gates to fascinating night markets. Book a flight to Taipei from Hong Kong and you will not be disappointed, because even a single day wandering around the city will bring you lots of surprises. Also, remember to pick a bus, taxi, or a bicycle to get around this charming Taiwan capital.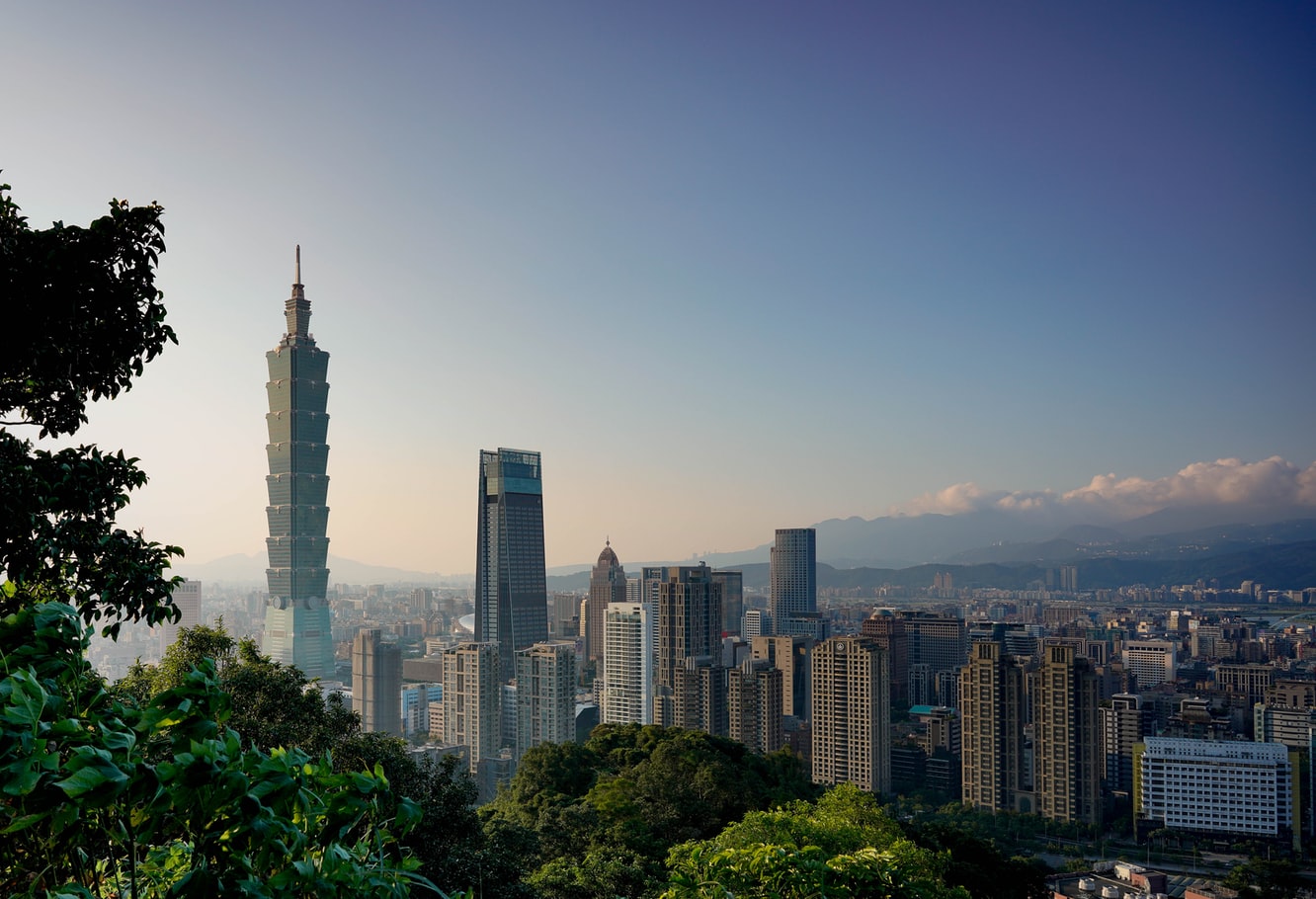 Elephant Mountain
This is also called Xiangshan or Mount Elephant. It lies within a walking distance from Xiangshan station. Climbing the elephant mountain is not a difficult task for an active person. Once you reach the summit you'll be awarded many spectacular views of Taipei including Taipei 101. The best time to pay the hike is during sunset hours to capture the fantastic sceneries of the sinking sun. you can also climb during night time which is quite comfortable to the body as well. It will take maximum 1 and half hours to complete the hike up Elephant Mountain.
Martyrs' Shrine
This is called The National Revolutionary Martyrs' Shrine. This has been built as a memorial for Chinese soldiers who died during war periods. People visit this shrine to pay their respect to those heroes. It is done by offering incense sticks and bowing at the shrines. Guards changing in every hour is an eye-catching scenery. The building's impressive architecture with Ming Dynasty style draws lots of tourists. Taiwan during the War period is nicely exhibited inside this shrine. Martyrs' Shrine has a peaceful and calm background surrounded by a grass lawn.
Shilin Night Market
This is a night market in Shilin district. Most probably Shilin night market is Taiwan's largest and most popular night market. It offers you a wide array of items from clothes and jewelry to street foods and ice-creams. It is quite crowded every time so you will wonder where to go or what to buy. But keep walking slowly as it will be interesting too. You will be overwhelmed by the good-looking vendors at the entrance of the market but the real deal lies in the underground night market.
Fort San Domingo
Fort San Domingo is a historic fortress located in the Tamsui District. It was a wooden fortress originally built by the Spanish Empire. Dutch rebuilt it after a battle. You'll be charged an entrance fee but the visit is worth that price. Although you will feel like a little bit packed inside due to the small space, the views of bay and mountain from here are fantastic. Visiting Fort San Domingo is really like a quick dive into the history of this area.
Hobe Fort
Hobe Fort is a historical landmark located near Fort San Domingo located in Tamsui District. This is a small fort mostly designed to attack the boats coming through the sea. Interior of this 19th-century fortress takes you many years back by its original earthen walls, imposing gateways and the photo gallery. The present peacefulness of the surrounding makes you forget that once it had been a noisy fortress. The ancient atmosphere still revolves around the Hobe Fort. Foreigners are charged with an entrance fee where the entrance is free to locals.
Longshan Temple
Longshan Temple is a place rich with history. Its beginning runs 300 years back. Have you ever seen a temple devoted to more than one religion? Longshan is such a temple which mixes the faiths of Buddhist, Taoist and Confucian. You can find a single minute with no worshippers at the temple such that this is full of worshippers every time. Although Longshan temple was subjected to many disasters, bombs and earthquakes, with the help of the locals it is still standing up proudly.
Lover's Bridge
Lover's Bridge is a white cable pedestrian bridge situated in the Tamsui district, near the Fisherman's Wharf.  The shape of the bridge is similar to that of a sailing ship. There is light which illuminates the bridge at night. So, it will make the perfect night date with your loved one! The bridge gets its name as the Lover's Bridge because it was opened on Valentines' day in 2003.  You can also enjoy the incredible views of sunset and sunrise here.
Taipei 101
Taipei 101 is the tallest building in Taiwan or the third tallest building in the world with 1667 feet height. The basement floor is covered with a mall. It comprises 101 floors where the observation deck is located on the 89th floor. The elevators are fast-moving such that it travels to the observatory deck floor within 37 seconds. Every floor consists of something to do and see including restaurants and cafes. An admission fee is charged only at the observatory deck.
Yangmingshan National Park
Yangmingshan National Park is one of Taiwan's nine National Parks. This is a place with lots of hidden gems such as flower gardens, cherry blossoms, waterfalls, sulfur deposits, hiking trails and hot springs. The hiking trails are Seven Star Mountains and the tallest dormant volcano in Taiwan. If you arrange the visit during February- June springtime, you can catch up the cherry blossom time. The fresh air coming through the greens pleases your minds that are damaged with busy city life. Its views are superb! Make sure you take a dip in the public hot springs.
National Palace Museum
The National Palace Museum is home to a huge permanent collection of nearly 700,000 ancient Chinese artworks and artifacts. They have a history of 8000 years. This is a world-class museum. Even the walk leading to the museum is impressive such that you won't regret visiting it. The exhibits are unique and take a special place in the world.  The most notable is the jade carvings known as the Jadeite Cabbage and the Zong Zhou Zhong (Bell of Zhou) which is a musical instrument commissioned by King Li of Zhou.
CKS Memorial Hall
CKS Memorial Hall is a cultural landmark in Taiwan Capital. The octagonal roof is blue above the white for walls. This is the memorial hall of China's former president Chiang Kai-Shek (CKS). Its ground floor is a museum with a library. The museum exhibits some life events of Chiang. The statue of Chiang is kept in the main hall where they carry out ceremonies. The surrounding park is a garden with fish ponds which are spectaculars. The hourly changing guards is a must-watch as well.
Beitou Hot Spring
There is nothing better for you to recover than sitting on a natural hot spring all day and eating tasty foods. By a small ride from the city, you can reach the Beitou Hot Springs. This is not only a place that gives you relaxation, fun and enjoyment but also a historical place with interesting Chinese history. There are three types of hot springs: Green Sulfur springs, Red Iron Springs and White Sulfur Springs. The history means that these hot springs were once used by ancient Kings and Queens as well.
Huashan 1914 Creative Art Park
Originally the Huashan 1914 Creative Art Park was famous for Taihoku Winery. But now this park is full of art galleries, restaurants, performance venues and cultural creative stores. During weekdays the park is not as packed as weekend days. You can spend a whole day here relaxing and exploring the colourful exhibits and alluring art installations. This is a multi-purpose park. There are also big playgrounds for kids to play.  Pictures at the exhibitions are truly talking pictures, so that much they are creative.
Liberty Square
Liberty Square is a lovely place with tranquil gardens. It is pretty big covering 240,000 square meters in Zhongzheng District. Many people in Liberty square do what they want. Some are dancing, some are singing or chilling. The vibe is very relaxing over here. It is worth seeing the traditional change of the guards near the statue. This is not a crowded place often but this is one of the major sites where public gatherings occur in Taipei. CKS memorial hall stands at the east end of Liberty Square.
Bopiliao Old Street
Bopiliao Old Street is one of the major tourist attractions in Taipei that is located near the Longshan Temple. Be prepared to be immersed in the history of Taipei and play games which are played by earlier generations. This place gives you the old-time atmosphere like everything has gone back to the 70s. This is the only preserved old street in Taipei without getting modernized. Early Taiwan people's livelihoods are nicely shown by the remaining buildings in Bopiliao Old Street.