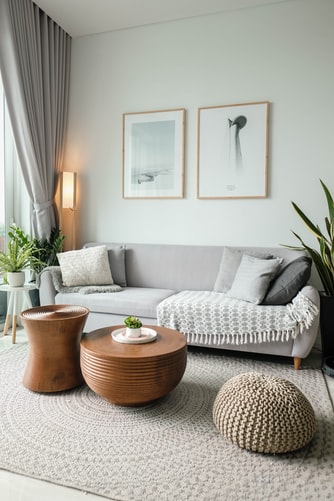 Everyone wants their homes to look personalized and not like the others'. However, if you rely on only the decor items bought in the nearest store or if you think of IKEA at once, then it is time to say goodbye to the dream of making your home unique.
We have a better idea! What if you made some decorations yourself? We know several options that will not take you much time but the result will be astonishing!
How to Decorate Your Home With the Minimum Of Efforts 
What do we usually think of when we have an idea of refreshing our interior? First, we need something different from what our friends and neighbors have. Second, we want this "something" to fit our interior perfectly. 
Both requests cause problems since really unique items often cost a lot (way too much as for the simple decoration!), and choosing a proper color and texture of the decor item turns out to be not so easy as we imagined.
Fortunately, the solution is pretty simple. We can make those decorative elements ourselves!
1. Wireframes
If you have any metal elements in your interior, such a frame will fit right in! If can be done for a mirror or a photograph, it doesn't matter as long as you enjoy the process and like the result.
The good thing about such decoration is that you can bend it in all possible ways creating fantastic patterns and figures out of it (only choose very flexible wire for that). To fix the creation and prevent it from falling apart, you will probably need some superglue, but be careful: this adhesive is rather difficult to delete from the skin once it gets there 
If you pulverize the final item with golden or silver spray, it will turn into the magnificent part of your room.
2. Nautical vase
Do you have a cheap or old vase and you would like to turn it into something more attractive? Then you will need enough jute rope and some glue to help you out. Simply glue the rope around the vase ensuring that it is attached evenly with no gaps between the layers, and your summer-style vase is ready!
3. Unique cabinet tray
Do you often eat while working or reading? Then, perhaps, a tray will be useful for you. But if you dream of some chic item to place the plates and cups on, we have a great idea! Take a cabinet door, sand, paint it in any color you like, and screw in a pair of holders. If you manage to find a pair of those at some vintage market, that will be even better.
4. Pattern the dresser
Those who are tired of observing the same dull dresser can do a little trick. Take any paint you like (we suggest using dark colors if the dresser is white and bright-colored or even gold paint if the item is dark), prepare a patterned stencil and a brush, and enjoy the process of transformation.
If you feel really inspired, you can even color the handlers – why not?!
5. Make use of old encyclopedias
Do you have piles of old books that nobody reads and they just gather dust on the shelves? It is time to give them a second life! Prepare a pile of books with a similar spine each (encyclopedias will be the best since they have the same spines), put them on top of each other creating a "tower" and slightly turn each book to make the whole construction look a bit twisted. 
Glue books to each other, and attach the top in the end (of course, glue it as well). Now a fancy and unique side table is ready to amaze your guests!
6. Suitcase tables
If you have some vintage suitcases that still look good, don't throw them away. We recommend you finding proper wooden stools and simply attach those cases on top of them. Like that, you will get fancy handmade cases for storing bedsheets and other bedroom stuff.
7. Shutter table
This one will be the perfect item to have in your garden or on the terrace! You will need four old shutters and two equal pieces of wood or stone – for the base and the top of the future table. No need to paint the shutters, just leave them weathered as they are to add more rustic notes. 
Such a table can become a great seat for your favorite pot with flowers or a garden lantern.
8. Pendant lights
To make the room cozier, why not make a pendant light yourself? As a base, you will need a lamp and a cord, but for decoration, any fitting item will do from vintage hats to nesting bowls and small colored buckets! Be creative and you will definitely find something that will pair perfectly with your interior.
9. DIY bench
Nothing can be easier than this. Take a piece of laminated shelf pine and four hairpin legs, attach those to the wood, and voila – your bench can now be placed in the corridor or anywhere you want it to be.
10. Candle lampshade
An extremely simple trick that will add cozy atmosphere to your dinner. You will only need wine glasses, paper shades, and LED tea lights. Place the lights into the glasses and wrap those around with the paper caps.
Hanging on the color of the paper, you can play with the effect such lighting will give, from romantic (go for something pinkish or light-colored with the floral patterns) to stylish and even dramatic (black and white or black and gold combination).
11. Brass tacks
Have you always thought those were for sofas only? Then try to tap them along the lines of your wooden table, chairs, or benches. Such an element will add eye-catching design to even the simplest item.
All these hints are very easy to perform, and they don't require any special handcraft skills. Search your attic and garage for any interesting and maybe even vintage items and turn them into the unique pieces of your home interior with just several strokes of a hammer!